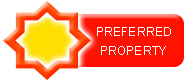 All properties listed on this website with this Preferred Property Symbol will offer special discounts on listed prices.
What are Preferred Properties?
Various Hotels / Resorts and Homestays have partnered with us as Preferred Properties to showcase their properties through WeekendDestinations.Info. They also offer discounts on these properties to all those who are referred by us. Please refer to the list below for the present Preferred Properties.
How do I avail the discounts?
If you want to avail discounts on these Preferred Properties, you must drop your query to us through our "Contact for booking" link. We will then forward your name to the respective Preferred Property and inform you about the discounts you would enjoy. After you receive our confirmation, you can call the Property and refer WeekendDestinations while booking. You will get the discounts.
Privilege to our Facebook members?
Our present FaceBook members will get an extra 1% Discount .
Join our FaceBook community at http://www.facebook.com/WeekendDestinations
Are the discounts on inflated prices?
No, all discounts are on listed prices. These discounts are only available to those members/travellers whom we refer to the Preferred Properties.
If I contact the property directly and take your reference but do not inform you?
You will not receive any discounts unless we refer your name and other details like email ID, Date of visit, Number of Travellers, etc. to the Preferred Properties. So, you have to inform us to avail the discounts.
How do I know about the regular updates on Preferred Properties?
Join our Facebook community at http://www.facebook.com/WeekendDestinations and get regular updates on the discounts.
Present list of Preferred Properties:

Bamboo Retreat is located only a 30 min. drive out from the din of Gangtok in Sajong. Enjoy the peaceful energy of the ground, the enchanting panoramic view of the Nathula-Himalayan range across the valley and the unique blend of Swiss-Sikkimese cuisine and hospitality from this boutique resort.

The Bliss Resort of Biksthang with its lush lawns, cozy rooms and excellent hospitality offers the best accommodation at Biksthang. It is very near to Pelling at about 124 kilometers from Bagdogra and offers panoramic views of Mt. Kanchenjunga.

Beloon Eco Village is located near Bardhaman. You would be staying in a traditional mud house and enjoy a stroll beside the Shibai River, rafting, watching dolphins, plucking fresh vegetables from the farm and bird watching. You can also volunteer in conserving the local wildlife.

Zurrantee Tea Bungalow is a 119-year old British Bungalow set amidst lush green tea gardens surrounded by mountains in the distance. This teasort is located at the foothills of the Eastern Himalayas and lies between Murti and Neora rivers. Zurrantee offers a variety of flora, tea gardens and the colonial days.

Martam Village Resort offers excellent accommodation  in 14 thatched cottages built in traditional style to blend with the surrounding village. The cottages have twin bedded rooms with large picture windows framing the spectacular countryside and attached bath with modern facilities.


Tashigang Resort in Yangtey is just 9 kms from Pelling and it offers excellent views of Mt. Kanchenjungha without the crowd and din of Pelling. The various nearby destinations of Yangtey are Khecheopalri Lake, Rimbi Waterfalls, Rabdentse Ruins,  Temi Tea Garden, Geyzing  and Pemyangtse.

Tiya Bon Resort is located adjacent to Khariar Bander Forest, at a distance of 63 kilometers from Siliguri. Situated amidst tea gardens and forests, it is an interesting place for both adventure and nature loving tourists. With Gorumara Forest in your backyard, you'd surely love the experience of Tiya Bon.

The Tempula Inn has beautiful wood huts, cozy beds and neat western bathrooms to keep you happy and in-sync with the surrounding extravaganza of nature. Your bedroom windows would open into the inviting greenery of Samsing. It is a Deluxe Home Stay facility with two huts and two deluxe rooms.

Selim Hill Tea Bungalow is just 35 kms from Siliguri. This 150 year old Tea Bungalow is tucked into one of the oldest tea estates of Darjeeling, decked with period furniture. If you look straight from the windows of the bungalow, you can view the spectacular sight of the Himalayan ranges and deep gorges.

Serrani Tea Bungalow nestled in one of the most admirable backyards of Duncan's tea estates with Jaldapara Wildlife Sanctuary on one side and the hills of Bhutan on the other is a picture perfect destination offering a serene retreat. The spectacular view of tea gardens is truly enthralling.

Zuri Hotel at Baiguney is centrally located with Pelling and Darjeeling around 2 hours. Baiguney is a beautiful location tucked in a remote corner of the Himalayas in Southern Sikkim in the banks of River Rangeet. The Retreat is a picturesque, 12 acre destination resort on the banks of  Rangeet.

The Eco Huts of Kolakham impart a cozy vibe offering nice accommodation and dining facilities to the guests. Kolakham is an ideal destination nestled beside the Neora Valley National Park around 108 km from Siliguri, this charming location offers majestic views of Mt. Kanchenjunga.

Cherry Resort at Temi Tea Garden is an ideal retreat to recline in style. Nestled by blooming Cherry Blossoms and views of Mt. Kanchenjungha it is one of the best accommodations in South Sikkim. The Teesta River Gorge enhances the appeal of the entire setting.