The colossal dam on the Mayurakshi River and the vast water body bounded by hills on all sides has made Massanjore an ideal tourist spot, which is perfect for enjoying a weekend tour. Masanjore falls on the way between Siuri and Dumka. It is specially the greenery of Massanjore, the lake, forests, surrounding hills and Mayurakshi River which makes Massanjore a hotspot for tourists.
Lodging and dining facilities in Massanjore
Our resort at Massanjore overlooks the vast Massanjore lake and surrounding hills and forests. Presently, we offer Deluxe Double Bed AC rooms. Located within the gardens and children's park, these spacious rooms are equipped with all modern facilities like electricity and attached western bathrooms with hot water geysers, Air Conditioning and comfy beds and couches. There is a separate dining hall for the guests. We also offer an AC Community Hall for Conferences and Cultural programs. Food is essentially traditional Bengali cuisine and most of the produces are locally procured.
Things to do in Massanjore
The main attraction of the region is the huge dam built on the Mayurakshi River. Explore the exquisite natural surrounding of Masanjore by enjoying a leisurely hike throughout the region. You can also visit the nearby picturesque villages inhabited by the tribals. In winters, you can also opt for various watersports options at Masanjore.
How to reach Masanjore
The distance between Shiuri and Masanjore is nearly 40 kms. Regular bus services and rented cars are available to facilitate the guests to reach Massanjor from Shiuri.
Best time to visit Masanjore
Massanjore attracts tourists all through the year.
Places to see in Massanjore
The biggest attraction of Masanjor is the Massanjore Dam that was built in 1955 with assistance from Government of Canada. The dam stands at a height of 155 ft and a length of 2170 ft. The hills of Panjanpahari and Gidhipahari with its dense forest, guards the Massanjore Lake and Mayurakshi River. Apart from the pristine nature, Masanjore also boasts of the "Our Lady of Mt. Carmel Church".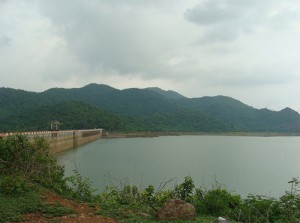 Attractions around Massanjore
If you are travelling from Kolkata, then Tilpara Barrage (34 kms.) on Mayurakshi River and Santiniketan – Bolpur (70 kms.) would fall on the way. The vast expanse of Mayuraksi River at Tilpara Barrage is a sight to behold. The primary attractions of Santiniketan like Vishwabharati, Kopai River, Khoai and Sonajhuri Shanibarer Haat would invite a stop-over for you. The major Sati Peeth of Bakreswar and the nearby Bakreswar Lake and the Shakti Peeth Tarapith can be covered in day trips from Massanjore.