Delo Kalimpong or Deolo is located at an altitude of 5556 ft on the edge of a reef connecting Delo Hills and Durpin Hills. This beautiful nature park offers one of the best views of Mt. Kanchenjungha and River Teesta. Delo has been converted into a nature park by the Government and there are Government accommodation options within the park as well as luxurious private accommodation options outside the park.
The main town of Kalimpong is only 6 kms from Delo Hill. Spending a weekend savoring the majestic views of the Himalayas and lazing around the gardens is the usual activity you can enjoy here. However, adventure seeking souls can also enjoy paragliding in Delo.
Lodging and dining facilities in Delo Kalimpong
This new private bungalow at Delo is spread over 8 acres of forest land. With nature trails spreading throughout the Delo Hill and reasonably priced luxury rooms decked with all modern facilities like attached bathrooms, LED TV, hot water geysers, comfy king size beds, parquet floors, and a fabulous multi-cuisine restaurant.
All rooms have views of Mt. Kanchenjungha and River Teesta. With a meditation point and pine forest all around, this new private bungalow is the best place to stay at Delo. This bungalow serves sumptuous food in its dining hall and can also arrange barbecue for the guests.
Delo Kalimpong Photo Gallery
Things to do in Delo Kalimpong
If you are longing to de-stress then enjoy the gardens, the mesmeric views, hot coffee at the bungalow and take short treks and nature walks around Deolo. It is the best place to unwind yourself. If you are adventure lover, then you have opportunities to paragliding from Delo.
How to reach Delo
Bagdogra airport, located close to Siliguri is the nearest airport and is some 79 km from Kalimpong. From the airport, you can take a taxi to reach Kalimpong. By rail, New Jalpaiguri (NJP) railway station is the nearest to Kalimpong and you can easily reach Delo by hiring a taxi from the station. It takes around 2.5 hours to reach Delo from New Jalpaiguri.
Best time to visit Delo Kalimpong
You can visit Kalimpong during any time of the year as the place experiences mild summers and pleasant winters. The best time to visit this place is from March to May and from September to January.
Places to see in Delo Kalimpong
Delo Hill is an extended nature park with very well maintained gardens, fountains, views of Mt. Kanchenjungha and River Teesta. There is a huge statue of Lord Hanuman near Delo. You would also find a very nice statue of Lord Buddha on the way while returning from Delo to Kalimpong.
Monasteries or Buddhist gumphas form a very important feature of the surrounding and there are three important gumphas – Tharpa Choling Monastery, Zong Dog Palri Fo-Brang Monastery and Tongsa Gompa that stands witness to the journey of Buddhism in India. There is also the Lepcha Museum & Monastery situated in nearby Big Dhara which showcases everything about the Lepcha community and culture.
Durpin Dara Hill is a must visit as it offers panoramic views of the Chola Range of Sikkim. Other places of attraction in nearby Kalimpong include the flower nurseries; Dr Graham's Home and the Neora Valley National Park which covers a total of 88 square kilometer and houses a wide range of wild animals like tiger, black bear, goral and Himalayan wild dog as well as bird and species of reptiles.
.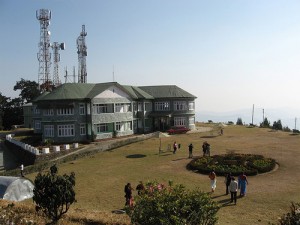 Attractions around Delo Kalimpong
The most popular nearby attraction is Lava. Located some 30 km from Kalimpong, Lava is popular for its closeness to Neora Valley National Park. Then there is Pedong, some 20 km from Kalimpong which is a beautiful tiny settlement amidst pine trees, Lolaygaon, (54 km from Kalimpong) which offers some spectacular views of Mt. Kanchenjunga and off course Darjeeling just 56 km from Kalimpong, is often called 'Queen of Hills' and is the most popular tourist destination in northeastern India.
If you are seeking some offbeat destinations, then a trip to nearby Icchey Gaon, Ramdhura, Sangsey and Sillery Gaon should be in your itinerary. Most of these offbeat destinations offer homestays where you can savour great home cooked food, mingle with local culture and enjoy great views of Mt. Kanchenjungha. If you are moving towards Lava, then you can also cover Rishop, Kolakham and Charkol in your trip.