Ashanboni is a stopover town located just 17 km from Jamshedhpur at the foot of Dolma Hills. This unspoiled destination nestled amidst green mountains, hills, rivers and streams attract lots of tourists. You will truly fall under the spell of the breathtaking natural beauty of the location. You can also reach the peak of Dolma Hill just 9 kms away. Ranchi is around 120 kms from Ashanboni. Other nearby attractions include Dimna Lake, Jubilee Park and Chandil Dam.
Lodging and dining facilities in Ashanboni Farmhouse
Located at the foot of Dalma Hills, this luxury farmhouse offers you lush green lawns, hill-views and farm orchards. Our Farmhouse flourishes with orchards of mangoes, papayas, guavas, lemons and a whole garden of vegetables. All our rooms come with all modern facilities like electricity and attached western bathrooms with hot water geysers, Air Conditioning and comfy beds and couches. There is a separate dining area for the guests and a swimming pool too. This farmstay offers Triple Bedded Luxury Mud Cottages and Premium Double Bedded rooms. Other simpler services like car rentals for day trips, Campfire and Barbeque arrangements can also be made at our Farmhouse. We also offer an AC Community Hall for Conferences and Cultural programs. Food is essentially traditional Indian cuisine and most of the produces are locally procured or sourced from our own gardens.
Asanboni Farmhouse Photos
For more photos of Ashanboni CLICK HERE
Lodging and dining facilities in Ashanboni Resort
This resort is located at the foot of Dalma Hills. The  major attraction of this hotel is its own swimming pool. All rooms are Air-Conditioned and are equipped with all major facilities like Extra Large Comfy beds, TVs, Wardrobes, attached western bathrooms with hot water geysers and a dining hall serving delicious Indian Cuisine. There is also a landscaped garden and a lush lawn within the resort.
Things to do in Asanboni
You can enjoy a nature walk, while savoring the breathtaking natural beauty of the destination, enjoy boating in Chandil Dam Lake or Dimna Lake and take a nature walk in forests of Dolma Hills. You can also visit the banks of River Subarnarekha or Dimna Lake to catch a glimpse of the setting sun.
How to reach Asanboni
The nearest railway station of Ashaboni is Tatanagar, just 17 kms away. Moreover, Ashanboni is also connected with Ranchi, Jamshedpur and West Bengal by NH 32 and NH 33.
Best time to visit Ashanboni
You can visit Ashanboni any time of the year. The monsoons are great as the Dalma Hills are shrouded in greenery and winters bring in the flowers and sparkling weather.
Places to see in Ashanboni
Ashanboni is admired with a number of sightseeing destinations like the Chandil Dam, Dolma Wildlife Sanctuary, Jayda Temple, Jubilee Park, Dimna Lake and the Sai Baba Temple. You can also organize a day trip to the Dolma Wild Life Sanctuary from Ashanboni. The sanctuary is famous as the refuge of Deer and Elephants. However, you need to acquire an Entry Permit to Dolma Sanctuary from the check post by paying a minimum Entry fee. Another popular attraction is the nearby Sai Baba Temple. This renowned religious temple of Sai Baba stands for universal brotherhood, peace and unity. The nearby Jayda Temple dedicated to Lord Shiva is another popular attraction nearby. A huge fair is held every year at the site on the eve of Makar Sankranti.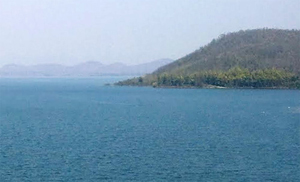 Attractions around Ashanboni
The Chandil Dam boasting a height of 220 meters is built on River Subarnarekha. The location is also ideal for boating. The Karkori River, which originates from the Hundru falls blend with the Swarnarekha River at Chandil. The dam featuring a huge water reservoir is a nice place to spend the afternoon enjoying boating. You can also visit the museum located near the Chandil Dam. The museum showcases some valuable collections of 200 years old scripts, inscribed on rocks. A visit to the open air Sheesh Mahal Auditorium near the Chandil Dam should also feature in your "to do list."
If you want to explore further, you can take a tour to Ranchi, the capital city of Jharkhand located around 130 km from Asanboni. Visit the Dassam Falls across the Kanchi River, located some 80 km from Ashanboni and it takes around 1.5 hrs to reach the destination. Ghatshila is around 47 kms from Ashanbani.
If you are planning for an extended weekend then you can keep Ajodhya Pahar and its sightseeing options with your Ashanbani trip. Bagmundi – one of the major stopover points for excursions to destinations like Khairaberra Lake, Upper Dam, Lower Dam and Turga Waterfalls in Ajodhya Hills range is around 87 kms from Asanbani.
.