One of the most untouched parts of the Darjeeling Himalayan foothills, Sitong is a treasure trove yet to be discovered. This little picturesque Lepcha village lies is a valley crisscrossed by a rivulet (Khola) and guarded by lush green hills.
Every house in Sitong has a garden and every garden has orange trees. The whole village turns orange during the winter. Visiting Sitong is like time travelling – there's a bamboo bridge, a church, some winding village paths skirting through orange orchards and few meandering streams and a rivulet, which the locals love to call Riyang River. The church guesthouse has been renovated with modern facilities to accommodate guests.
Lodging and dining facilities in Sitong Guesthouse
The newly built three-storey guesthouse of Sittong church located on a hilltop has been modified with all modern facilities for the guests. There are six rooms with attached western bathrooms, hot water geysers and wall to wall windows and balconies with sweeping views of Sittong Orange Valley. The lobby has a fireplace where you can get along with your family enjoying a cozy evening or watching TV. Organic vegetarian and non-vegetarian food is served in the Guesthouse's Dining hall.
Things to do in Sitong
Enjoy long nature walks along the villages and take a peek into the traditional lifestyle of the Lepchas, eat as many oranges as possible and visit the church to find some solace. You can enjoy a dip in the Riyang River and do some bird watching and butterfly watching too. You can also avail some light treks to the nearby Labda village and few nearby spots with a local guide.
How to reach Sitong
There are three routes to reach Sitong. The shortest route (55 kms) is through Siliguri – Sevoke – Kalijhora and Latpanchar. The second route (78 kms) passes through Siliguri – Rambhi and Mongpoo. The third route (75 kms) is through Kurseong – Dilaram – Bagora and Ghareytar. The last leg of the journey to Sitong (last 15 kms) is quite steep.
Best time to visit Sitong
November, December and January is the best time to see oranges is Sitong. The orange harvest takes place during late December and early January. As Sittong is located around 4000 feet above sea level so it is also a nice place to beat the heat during the according summers. The rivers and streams get filled after the rains and the lush greenery is something not to be missed during the monsoons in Sittong.
Places to see in Sitong
You can visit the local church. Previously, there used to be a 100-year old Bamboo church here but now a new building has come up. There is a Bamboo Bridge, which you would love to see wobbling when someone crosses. But when you are in Sittong, there is one thing you cannot miss doing – "Enjoying Oranges."
When the oranges bloom, the whole village is covered in a hue of orange. You can also spend time walking all around the village along the farms or sit idle on the banks of Riyang river and watch the Lepcha kids returning home. In Sitong, you would love doing "nothing."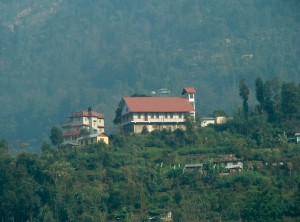 Attractions around Sitong
The house of Rabindranath Tagore at Mongpoo is just 20 kms away and Latpanchar – the highest point in Mahananda Wildlife Sanctuary is 13 kms. from Sitong. Latpanchar is also known for being the home to the Himalayan Salamander and numerous species of birds and butterflies. Another attraction of Latpanchar is the endangered Rufous Necked Hornbill, which nests here every year between April and September.
Other touristic destinations like Kurseong, Dilaram, Bagora are all within 20 kms of Sitong. Chatakpur, the picture-perfect village within the Senchal Wildlife Sanctuary is also within 30 kms. of Sittong.