Bada Sahib, Memsaab, bungalows, pastries, village churches and memories of everything that brings back the days of the British Raaj can still be traced in McCluskieganj – lovingly called "Chota England" in the past. The little snaking Dugadugi rivulet, churches hidden amongst trees, a picturesque railway station, hills on the horizon, rundown grand British bungalows with their red roofs and rose gardens make McCluskiegunj an ideal weekend spot for time – travellers. The pleasant weather, the untainted nature and the flavour of the colonial past – it is a different experience at McCluskieganj. After the departure of Anglo Indian and British from McCluskieganj during the 1950's, the township started loosing its charm and in the next five decades, with no further developments, Mcluskiegunj turned into a nondescript village with a grand colonial past. However, with the recent shifting of Don Bosco School to McCluskieganj, this little town has started regaining its past. The dilapidated British bungalows have been taken up by the school, renovated and turned into student hostels. Local employment has increased and safety of travellers is no more an issue now. The school has generated local tourism too.
Lodging and dining facilities in McCluskieganj
Built by the earliest Anglo Indian settlers of McCluskieganj, our bungalow in McCluskieganj is one of the finest examples of Indo-European architecture. The main bungalow is a fusion between British Country Cottages and Indian high-priest homes. With wooden posts carved in Indian temple style supporting the portico, which is typical of English homes, this bungalow's entrance is a treat to the eyes. The roof is cleanly laid with red mud tiles to keep the bungalow cool in summers and the airy open verandas and lounge area guarded by Wooden Fences is distinctive of the Sahibs residences of British India. The guest lounge are within the main bungalow area and the guest bedrooms are in the annex buildings. We have double, triple and single bedrooms in the annex area of the bungalow where guests are accommodated according to their preferences. Our rooms come with all modern amenities and attached western bathrooms. Since of late, prominent film personalities like Kalki Koechlin, Tanuja and others were hosted in our bungalow for the shoot of Konkona Sen Sharma's directorial debut "A Death in the Gunj." Their stay and recent visits by other prominent personalities have brought McCluskiegunj to the notice of mainstream tourists, once again. The bungalow is located on 08 acres of private land which accommodates two outdoor Badminton Courts, a Cricket field, a mango orchard and plenty of area to get lost. Typically set within landscaped gardens and hidden amongst age old trees, this bungalow is a retreat for the tired soul. Food is essentially traditional Indian cuisine and most of the produces are organic and locally procured.
McCluskieganj Photo Gallery
For more photos of McCluskieganj CLICK HERE
Things to do in McCluskieganj
Take a walk around the local villages and visit the grand British bungalows and their gardens. You can hire a local car and do some local sightseeing in local churches, jungles, Duli Village and nearby coal fields. You can also enjoy a riverside picnic on the banks of Dugadugi River just 20 mins drive from the township.
How to reach McCluskieganj
Shaktipunj Express is the only direct train from Howrah to McCluskieganj, but it reaches McCluskieganj at around 11:30 pm. However,
the most convenient way to reach McCluskieganj is via Ranchi. There are numerous trains connecting Howrah and Ranchi and you can hire a car or take a bus
from Ranchi to McCluskieganj. It hardly takes 3 hours (92 kms) from Ranchi to McCluskieganj and the road is very scenic.
Best time to visit McCluskieganj
This little township has a sparkling weather with warm days and cool evenings. This is one of the main reasons why the British loved this "Little England" of theirs. The daytime during summers is quite hot and dry but the evenings are cool. Winter and rainy season are the best times to visit McCluskieganj.
Places to see in McCluskieganj
Travellers visit McCluskiegunj to spend a peaceful weekend in a quiet colonial village. You would find some elegant British bungalows like Gordon Sahib's bungalow, few churches and a very interesting monument in the nearby Duli village where a temple, a Gurudwara and a mosque is built side by side.
McCluskiegunj is a typically hilly region within the Chota Nagpur Plateau with a beautiful natural landscape dotted with hills, rivers, jungles and villages. Another popular local spot is the Jagriti Vihar built by the Swedish Government for people interested in nature study. The Don Bosco School and its sprawling gardens and bungalows turned into student hostels are few other attractions. The small Railway Station, which services only two trains every day, still holds some interesting features of its colonial past.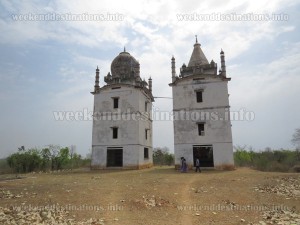 Attractions around McCluskieganj
This little colonial township is surrounded by forests and hills on all sides. The Dugadugi River just 4 kms away is a popular local attraction here. Ranchi, the capital of Jharkhand is only a 3 hours drive from McCluskiegunj. You can keep sightseeing in and around Ranchi like Tagore Hills, Rock garden, Kanke Dam and markets of Ranchi in your itinerary too. If you have a day in hand, you can also stay back at Ranchi and take a day tour to Dassam Falls, Hundru Falls and Jonha Falls. Another interesting place on the outskirts of McCluskieganj is Kothari – a dense patch of jungle with a beautiful landscape littered with hills and streams. You would also find some open-pit coal mines around McCluskieganj.