Pratappur village is surrounded by forests on one side and River Damodar on the other. It is located on the border of Bankura and Bardhaman. The resort area covers a massive 68 acres land tract, which has been transformed into a horticultural wonder with vegetable greenhouses, plantations, farms, ponds and gardens. A five-minute walk would take you to the riverside from where you can catch the mesmerising sight of the setting sun on mighty Damodar River. You can take long forest walks along the river or go for early morning bird watching trips from here.
Lodging and dining facilities in Pratappur
At our village resort, we offer 06 Deluxe Double Bed rooms at our resort for the guests. Every room is decked with modern amenities like attached western bathrooms with geysers, AC, Television, comfy beds, wardrobes, couches and all necessary amenities for a comfortable and enjoyable stay. Our rooms come with attached balconies facing the greenery. We also have a 10-bedded Dormitory for bigger groups visiting our resort. Facilities like Conference Hall, Play room, Parking and lush lawns and gardens would surely help you to relish your stay with us. Food is essentially sumptuous Bengali cuisine served in our Dining Hall. Most of our ingredients are sourced from our farm and essentially organic.
Things to do in Pratap Pur
Enjoy your escape into the world of greenery and take a walk in our farms, gardens and riverside. A leisurely stroll would take you to the nearby Damodar Ghat where you can enjoy a mesmerising sunset and evening Arati over River Damodar. Bird watching and butterfly spotting in our endless gardens and farms are few other activities you can enjoy at Pratap Pur.
How to reach Pratap Pur
Pratappur is 175 kms from Kolkata at the border of Bardhaman and Bankura district near Durgapur via NH19 (AH1). The nearest maintown is Durgapur, so regular buses as well as trains are available from Kolkata.
Best time to visit Pratappur
You can visit Pratappur any time of the year.
Places to see in Pratappur
The Durgapur Barrage on River Damodar is just a couple of kilometers away. One of the most prominent sightseeing options is the Bhabani Pathak's Tilla located around 10 kms. from the Pratappur resort. Bankim Chandra Chattopadhyay in his famous novels, 'Devi Chaudhurani' and 'Durgesh Nandini' mentioned these maze of tunnels and ever since then, it is one of the prime attractions here. The place is now a protected monument. You can also take your family to nearby Troinka Park and Kumarmangalam Park.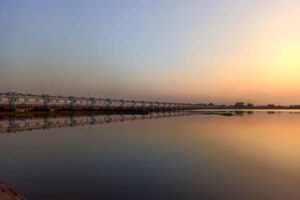 Attractions around Pratap Pur
The Shyamrupa Temple within the Garh Jungle is 26 kms from Pratappur. On the way to this Temple, you can also visit the famous Icchai Ghosher Deul on the banks of River Ajay. Built between 16th and 17th century, this Rekh-Deul is nearly 60 feet high. The Randiha Barrage of River Damodar is around 29 kms. away and the Gangdua Dam with its vast catchment lake is 35 kms. from our resort. The Bisinda Hill near Gangajalghati is around 32 kms from here. You would have to climb around 82 steps to reach the Nachan Chandi Temple and caves on top of the Bisinda Hill.