Ghatsila is a little secluded town beside the Subarnarekha River in East Singbhum District of Jharkhand. It will truly make you fall under the spell of its lush green hills, Sal Forests and meandering rivers strewn with boulders. Throughout the early part of the last century, Ghatshila has been considered a health resort for "Hawa Bodol" by the elites of Bengal due to its soothing climate and placid village life. The noted Bengali writer Bibhuti Bhusan Bandopadhyay of Pather Panchali fame was a resident of Ghatshila. As of now, we accommodate guests in two of the most scenic accommodations of Ghatshila – Ghatshila Resort and Ghatshila Farmhouse.
Lodging and dining facilities in Ghatshila Riverside Resort
Located in a quiet corner of Ghatshila far from the tourist rush on the banks of Subarnarekha River and surrounded by hills, our Ghatshila resort has a private pathway leading to the river. You can cherish the sunrise over Jadugora Hilla and sunset over Subarnarekha River from the balcony of our cottage.
As of now, there are Four Double Bed Non AC cottages and One AC Deluxe Double Bed Deluxe Cottage surrounded by flower beds and lawns on all sides. The cottages are equipped with all modern amenities like 24-hours electricity, LED Televisions, attached Western Bathrooms, comfy beds, wardrobes and hot water geysers in bathrooms. Then, there's a dining hall to enjoy the sumptuous meals some sitout areas for you to gossip in the outdoors.
Services like pick-up and drop from Ghatshila Station and car arrangements for local sightseeing are also taken care by the resort. The food served is essentially Indian cuisine and the locally sourced vegetables and fish make up for the pure flavour and sumptuous taste.
Ghatshila Resort Photo Gallery
Lodging and dining facilities in Ghatshila Farmstay
Spread over 45 acres of land, our farmstay in Ghatshila has around 25000 tall trees, a river flowing through its private area, few huge ponds surrounded by coconut trees, vegetable gardens, private forest, cowsheds, duck houses and endless lawns and flower gardens.
As of now, our Ghatsila farmstay boasts of 13 well-appointed AC rooms decked with all modern amenities like 24-hours electricity, LED Televisions, attached Western Bathrooms, comfy beds, wardrobes and hot water geysers in bathrooms. Built more than 75 years ago by the earliest settlers of Ghatshila, this farmhouse is one of the finest examples of Garden House or "Baganbari" of the elite Bengalees. Food is essentially traditional Bengali cuisine and most of the produces are organic and locally procured.
Ghatshila Farmhouse Photo Gallery
Things to do in Ghatshila
You can hike to the top of Jadugora Hill, Narwa Hill, Rangapahar Hill and Phuldungri Hill through dense Mahua and Sal Forests while spotting different species of birds and butterflies. Few other things you can do are buying local Santhali handicrafts, boating at Burudih Lake, watching a Cock Fight in the marketplace or gazing at mesmering sunset over Subarnareka River from Raatmohona Sunset Point.
If you are visiting Ghatshila in the month of October, then you should visit the Binda Mela held on the banks of Burudih Lake. You can hunt for some of the most authentic tribal items in this fair. However, Ghatshila is not only for its natural beauty but also for its mineral – rich water, which is said to have medicinal values. You can also try the sweet Kalakand from the shop Ganesh Kalakand in Ghatshila.
How to reach Ghatshila Resort
If you are driving from Kolkata, then take the NH16 upto Kharaghpur and further NH49 to Ghatshila via Baharagora to Ghatshila. There are a number of trains from Howrah (HWH) to Ghatshila (GTS) throughout the day and the distance is around 214 kms and takes around 3.5 hours. You can also take trains to Kharaghpur or Jamshedhpur and hire cars from the station to Ghatshila.
Best time to visit Ghatsila
You can visit Ghatshila anytime of the year. The monsoons bring in the dark clouds and add a lush greenery to the forests and mountains while the winters are famous for the chill and sparkling weather.
Places to see around Ghatshila Resort
Most of the sightseeing spots of Ghatshila can be covered in two "day-trips." To start with, you must visit Gouri Kunja – the erstwhile residence of famous Bengali writer Bibhutibhusan Bandyopadhyay who penned some of his best novels including Pather Panchali from here. Then a short hike from the main road to the top of Phuldungri Hill, which is covered in a small patch of Sal and Mahua forest and was the source of inspiration for Bibhutibhusan Bandyopadhyay's novel "Aranyak" should also be made.
Take a stop over the Galudi Bridge, which is the largest bridge over Subarnarekha River. The 21 feet high Dharagiri Waterfall is another 03 kms. ahead of Burudih Dam and the road reaching the waterfall passes through dense forest.
Temples of Rankini Devi in Ghatshila and Galudih are revered by pilgrims from far and wide. The first Rankini Temple was constructed at Galudih near Jadugora Village around 09 kms from Ghatshila but later the Rankini Mata Temple was shifted to Ghatshila. Thousands of pilgrims throng to these temples everyday.
You can also visit the famous Galudih Dam and hike your way to the top of Jadugora Hill. There is also an ancient stone just 06 kms fom Ghatshila with Five figures of men sculpted into it, which is believed to be the five figures of the Five Pandava brothers. A visit to Surda and Musabani Copper Complexes can also be on your cards. You can wind your day with a mesmerising sunset over Subarnarekha River from the Raatmohona Riverside sunset point.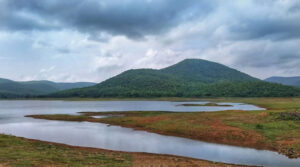 Attractions around Ghatshila Resort
To the north of Ghatshila lies the Dalma and Chandil range of forests. The beautiful Chandil Dam and adjacent Chandil Lake is around 77 kms from Ghatshila. On the way to Chandil Dam, you can visit the famous Dimna Lake (52 kms), Jubilee Park and Dalma Hills. You can spend a few hours on the Watch Tower atop Dalma Hill and enjoy a panoramic view of the surrounding forests and hills.
You can also include a "couple of days" stay at the hilltown of Ashanbani (50 kms) at the foothill of Dalma Pahar and enjoy the surroundings too. The forest village of Duarsini (29 kms away) within the Chandil Dalma range in West Bengal is famous as an Elephant Corridor and wild elephants can be sighted regularly heres.