The word "Bhir" means cliff in the local Nepali language and this Bhir is a 10000 feet long cliff-edge with almost 3500 feet abrupt drop. Our Tarey Bhir resort is located on the hilltop of this geological wonder, which is covered in pine forests. There is a pathway over the edge of the ridge. This pathway is guarded by a railing and you can take a walk over the Bhir and the Pine forests, do some bird watching and if you are really lucky you can also catch a glimpse of the illusive Bharal (mountain Wild Sheep) perched on some cracks of the sheer rock face of Tarey Bhir.
Lodging and dining facilities in Tarey Bhir Homestay
Our Tareybhir Resort is located just beside the ridge on the hilltop amidst Pine Forests and offers panoramic views of the confluence of River Teesta and River Rangit from our backyard and endless stretches of the blue hills of Sikkim and Darjeeling. We have 06 family rooms and all our rooms have attached western bathrooms with geysers, cozy beds and modern facilities to keep our guests happy and comfortable. You car would reach the doorstep of our resort and we can also make transport arrangements for local sightseeing and pick-up and drop. Food is essentially homemade and farm fresh and served with lot of care in our Dining Hall.
Things to do in Tareybhir
You can take a walk along the 10000 feet long cliff-edge with almost 3500 feet abrupt drop to a viewpoint somewhere in the middle of the ridge from where you can catch a glimpse of the confluence of the River Teesta and River Rangeet and the boundless expanse of blue hills of Eastern Himalayas. Also, bird watching in the forests of Tarey Bhir and long village walks in nearby Sadam Village could be on your cards too.
How to reach Tarey Bhir
Tarey Bhir is around 80 kms from Siliguri. Tourists can hire a vehicle from New Jalpaiguri Station or Siliguri Town to reach Tarey Bhir. You can also take shared cars from Siliguri or NJP Station to Melli and then hire cars straight from Melli to Tarey Bhir. Melli is around 14 kms from Tarey Bhir.
Best time to visit Tareybhir
You can visit Tareybhir any time of the year.
Places to see in Tarey Bhir
The Pine Forests of Tareybhir hilltop and the view atop 10000 feet long cliff-edge with almost 3500 feet abrupt drop is the main attraction of Tarey Bhir. Also, just 04 kms from Tareybhir is the majestic 170 – year-old heritage home called Turuk Kothi.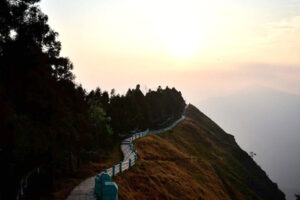 Attractions around Tarey Bhir
The tourist town of Namchi is around 16 kms from Tarey Bhir. Most of the attractions like Chaardham, Chalamthang Village, Samdruptse Monastery and Kitam Bird Sanctuary are all within 20 kms of Tareybhir.
Located at a height of around 7000 feet, you would find one of the finest statues of the world standing 118 feet high gazing over the horizon and mighty Himalayas shimmering in a golden hue. The statue is of Guru Padmasambhava, who is said to have brought Buddhism to Sikkim from Tibet. In local Bhutia language Samdruptse means "The wish fulfilling hill". The views of the Eastern Himalayas from the monastery complex is spectacular. Chalamthang literally means "Orange Farm" in Lepcha language. This small village is a true traveller's paradise. Still untouched by tourist rush, here you can pick up vegetables and experience the true village life of Sikkim.