Just 59 kms from Kolkata, Malipara is a serene village with endless stretches of paddy fields, vegetable gardens, ponds, palm trees, mango groves, local temples and different shades of village life. It's a nice place to de-stress yourself after a whole week of slogging in your workplace. At Malipara, you can just relax watching the vast endless skies over the green horizon, take a dip in the swimming pool, get together with your family and friends beside the barbecue or visit the historic towns of Chandannagar and Chinsurah. But, our resort in Malipara is not only rustic life without daily facilities, here you enjoy some of the best best facilities available in any resort around Kolkata like AC rooms, swimming pool, landscaped gardens, dining halls, conference rooms, gazebos and all other amenities which make our life comfortable. Malipara can be a perfect blend of ethnic charm and modern facilities for you in this weekend.
Lodging and dining facilities in Malipara Resort
Our resort in Malipara has ultra luxury rooms with private terrace pools, deluxe Double Bed cottage rooms as well as premium family rooms. You can stay overnight or visit the place for a day trip. The resorts have all the facilities for supporting corporate getaways, family day-outs and individual nature lovers. All rooms have attached western bathroom, wardrobe, sitting area, television and every other amenity. The Malipara resort is very well equipped with a swimming pool, conference rooms, manicured lawns, spacious dining halls, landscaped gardens, parking lots and children's play area. The resort is available for day-out groups as well as for individual guests who want to stay overnight. The resort also supports a multicuisine restaurant.
Malipara Resort Photo Gallery
Things to do in Malipara
The best thing to do is to watch the little things of village life pass around you. You can do casual birdwatching of some local birds around Malipara and walk around the fringes of the paddy fields and vegetable gardens. You can also enjoy in the resort's swimming pool, loiter on the manicured lawns, meditate in the resort's temple or take long village walks. If you are planning to stay a little longer, then try to visit Chandannagar and Chinsurah for some history hopping. You can also stop at Surya Moyra's shop at Chandannagar to buy the iconic Jolbhora Sandesh while returning from Malipara.
How to reach Malipara Resort
If you are travelling by car, take the Old Delhi Road (NH2) and take a left turn from Sugandha Mor to reach Malipara. It is around 59 kms from Kolkata and takes around 1 hr. 30 mins to reach.
Best time to visit Malipara
You can visit Malipara anytime of the year..
Places to see at Malipara
The village is dotted with vegetable gardens blooming with all types of vegetables from cabbages and cauliflowers to ladies fingers. You can also visit the century-old local temple or watch the village life of Malipara unfolding in front of you like ducks puddling around in ponds, farmers ploughing their fields and the local shopkeeper selling groceries.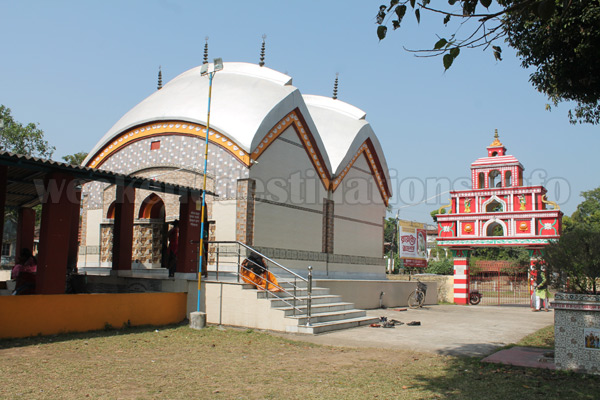 Attractions around Malipara
The erstwhile Dutch Colony of Chinsurah or Chuchura and the former French Colony of Chandannagar are around 20 kms. away from Malipara. The major attractions of Chinsurah like the Edwardian Clock Tower built in 1914, St. John the Baptist Church built by the Armenians in around 1699 and the house were Bankim Chandra Chattopadhyay wrote India's National Song – Vande Mataram can all be covered within a few hour's trip from Malipara. If you are visiting Chandannagar, then you can take a riverside walk on the historic Strand or visit the Sacred Heart Church built in 1844, the Nandadulal Temple built in 1740 or visit one of the oldest museums of the country – the Dupleix Palace also known as Chandannagar Museum. The Bandel Church and Hooghly Imambara is also around 22 kms from Malipara. You can explore all these destinatons in day-trips from Malipara.