Just 78 kms from Siliguri, perched on a hilltop with magnificent views of Mt. Kanchenjungha, Fichaley Gaon is a sleepy village guarded by forests and farmlands. If you are looking for a peaceful hideout in the Himalayas with opportunities of bird watching, trekking and paragliding, then Fichaley Gaon should be your choice. Being close to Delo and Kalimpong, day trips can be made to the local attractions of these destinations like Kalimpong Science Park, Delo Park, Durpin Monastery and the markets of Kalimpong.
Lodging and dining facilities in Fichaley Gaon
Our home stay in Fichaley Gaon offers great views of Mt. Kanchenjungha. Surrounded by farms and forests, this home stay is the perfect getaway from your hectic schedule. Our homestay has 02 Triple Bed Cottages and 01 Double Bed room and can accommodate upto 08 guests in total. Both our cottages have fireplaces and are equipped with modern facilities like comfy beds and attached western bathrooms with hot water geysers. You can enjoy the views of the snowy peaks of Mt Kanchenjungha and the rising sun from our homestay. Our Fichaley Gaon home stay serves sumptuous food in its dining area and can also arrange barbecue for the guests. Most of the vegetables used in our kitchen is organic and sourced fresh from our farm.
Fichaley Gaon Photo Gallery
Things to do in Fichaley
Apart from enjoying sunrise over Mt. Kanchejungha from our homestay, bird watching in the surrounding forests of Fichaley Gaon is one of the most preferred activities here. Also, trekking in the forests, monastery visits, taking village walks, arranging campfire in the evenings and surely if you are into adventure sports, then paragliding from Delo can be enjoyed while staying at Fichaley Gaon.
How to reach Fichaley Gaon
The nearest rail head of Fichaley Gaon is New Jalpaiguri (NJP) and the nearest airport is Bagdogra (IXB). You can take taxis or shared cars from NJP or IXB to Kalimpong and hire cars from Kalimpong to the homestay. Also, pick-up and drop service are provided by the homestay.
Best time to visit Fichalay Gaon
You can visit Fichaley Gaon anytime of the year. Winters are ideal for watching the rising sun over Mt. Kanchenjungha from your room while the cool weather of the summers is just ideal for you if you want to escape the scorching heat of the plains.
Places to see in Fichalay Gaon
This is a small village on the edges of a forest, which commands a panoramic view of Mt. Kanchenjungha. In spite of being located near Delo, Kalimpong and Lava, Fichaley Gaon does not fall on the popular tourist trail, hence if you are looking for a quiet getaway, then you can can spend a few days here. There are few view points on the way to Fichaley Gaon featuring statues of Buddha and Guru Padmasambhava. Around 02 kms from Fichaley Gaon is the famous Hanuman Temple with a towering statue of Hanuman ji overlooking the mountains.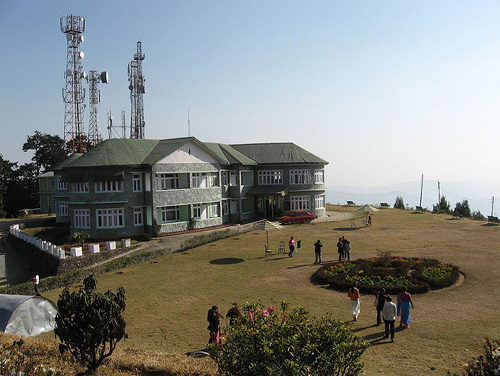 Attractions around Fichaley
While staying at Fichaley Gaon, you can make day visits to Delo Park and Kalimpong Science Park. Local sightseeing to the various attractions of Kalimpong like Pine View Nursery, Durpin Monastery, Delo Park, Golf Course, Gouripur House and the market square of Kalimpong. Also, you can take day trips to Jalsha Bungalow in Munsong, Reshikhola Riverside, Icchey Gaon Village, Sillery Gaon Village and the grand monastery of Lava from Fichaley.