In Bengali, 'Baor' is a 'fresh-water lake' and Berir Baor is a 06 kms. long Ox-Bow Lake created by the meandering Ichamati River. This Baor is famous for its aquatic fauna and some of the best quality fresh water fishes. A lavish lunch obliged by the delicious fishes of Berir Baor followed by a boat ride over this endless stretch of water guarded by greenery on all sides culminating in an awesome sunset over the lake are few things you can expect this weekend at Berir Baor.
Lodging and dining facilities in Berir Baor
We have 04 Double Bed AC Cottages, 02 Double Bed Deluxe AC Swiss Tents and 01 Double Bed AC room in our resort. All our rooms face the river and come with attached Western Bathrooms, Hot Water Geysers, TVs, Wardrobes and Comfy Beds. We also have a riverside Gazebo and a few manicured lawns. Our sumptuous food menu features freshly caught fishes from the lake and some great vegetables grown locally. The food is served in our Dining Hall.
Things to do in Berirbaor
You can start early and take a village walk along the lakeside skirting your way through paddy fields, mustard fields and vegetable gardens. You can hire a boat for a few hours in the early mornings or late afternoons and take a ride along the coast savouring the soft gusts of wind and gentle sway of the lake waters. You can ask your boatman to row you to the middle of the lake so that you can catch a glimpse of the setting sun. You can also enjoy the evening with your family in making a special barbeque.
How to reach Berir Baor
The nearest railheads are Thakurnagar or Gobordanga Stations. You can hire auto rickshaws from these stations to take you to Berir Baor. It takes around 30 mins. to reach.
Best time to visit Berir Baor
You can visit Berir Baor anytime of the year.
Places to see in Berir Baor
The Ox-Bow Lake stretching across villages, farms and paddy fields is the main attraction here. If you are here to explore the Baor, then you can take a boat ride and pay a visit to the Ramkrishna Temple and 'Nimai er Ghat' across the lake.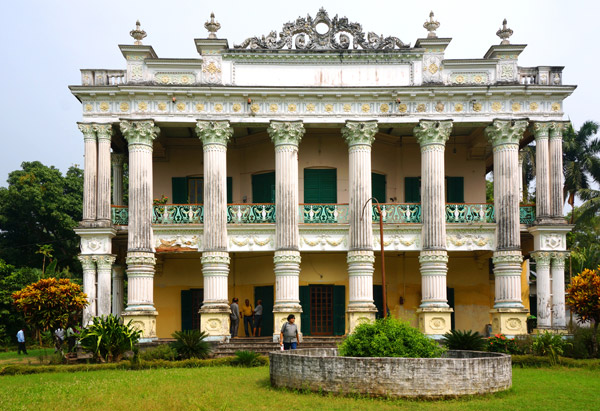 Attractions around Berir Baor
The major attraction here is the three century's old Gobordanga Rajbari. Although, the main Rajbari is a private property but guest can visit the surrounding garden areas and appreciate this magnificent heritage mansion. Then there is the 200-year old Prasanamoyi Kali Mandir and the Sitala Mandir. Then there is the Chanditala Mandir where Ishwar Chandra Vidyasagar is said to have initiated one of the earliest Bidhaba Bibaha (Widow Marriages). The Bangaldesh border is around 14 kms. from here and you can take a trip to see the barbed wire dividing the political borders between these two countries.