This magnificent structure of Chandni Jaltungi was built by Maharaja Kirti Chand of Bardhaman who ruled from 1702 AD to 1740 AD. The Maharaja commissioned this beautiful structure to represent the Royal Chatris built within the various Jheels of Rajasthan, Sindh and Punjab. Maharaja Kirti Chand was married to a Noble Lady Rajrajeshwari hailing from the noteworthy business family of Tandons from Punjab. In order to make his wife "feel at home" this beautiful waterbody along with a grand palace was built by the Maharaja here. Although the palace does not exist anymore, this beautiful Jheel still stands to tell the stories of the forgotten era. Some of the most famous musicians have graced this beautiful garden and the banks of this Jheel during the Maharaja's times.
Lodging and dining facilities in Chandni Jaltungi
We have 03 double bed cottages with attached western toilets and 01 Four-Bed Family room with 02 attached western toilets. There is a separate Sitting room with our Four Bedded room. All our rooms have Air Conditioning, King size comfy beds, Mini Fridge, Sofa cum-bed, Geyser, Electric Kettle, TV, Mini Wardrobe and Power backup. We serve sumptuous Bengali food to our guests at our Dining Hall.
Things to do in Chandni Jaltungi
Spend your starry evenings at the Jaltungi Hawa Ghar within the lake or sit beside the manicured lawns on the Khatia chatting with your friends and family while savouring some sumptuous Barbecue. You can also visit the three centuries old Jagannath Temple in our village to take part in the Evening Aarti of the Lord. An early morning stroll in our village amidst ponds, paddy fields and vegetable farms will rejuvenate your tired soul.
How to reach Chandni Jaltungi
If you are coming by car from Kolkata, then take the Durgapur Expressway (AH1). Cross Bardhaman and take a right turn from Nababhat and take the road towards 108 Shiv Mandir to reach Gushkara. Distance from Gushkara Station to Chandni Jaltungi in Dignagar Village is 08 kms. From Kolkata Chandni Jaltungi is around 136 kms. If you are coming by train, the nearest railhead would be Gushkara Station. You would get Totos and Buses from Gushkara Station to Dignagar.
Best time to visit Chandni Jaltungi
You can visit Chandni Jaltungi anytime of the year.
Places to see in Chandni Jaltungi
Dariapur Village located just 05 kms from Chandni Jaltungi has been turning out some of the most exquisite pieces of Dokra Art for the last 120 years. At present, there are 133 artisans at Dariyapur who practise Dokra craft as their primary occupation. The state government in association with UNESCO, has developed a Rural Craft Hub at Dariyapur where tourists can see and buy some of the exquisite Dokra Art pieces produced here. There is a Community Museum in the village too, which showcases the Dokra tradition of Dariapur.
Just 08 kms from Chandni Jaltungi, you would find the remains of Gushkara Airfield, which was a World War II airfield built by the US Air Force. The construction of Gushkara Airfield began after the arrival of U.S. Army forces in August 1942. This airfield was used as a Photographic Reconnaissance base for the Tenth Air Force during 1944 – 1945 which was heavily involved in the Burma Campaign of World War II.
The Jagannath Temple at Dignagar was built during the reign of Maharaja Kirti Chand Roy in early 17th Century. The temple was further renovated during the reign of Maharaja Bijoychand during early 19th Century. The dieties Lord Jagannath, Subhadra and Balarama are worshipped by the devotees here.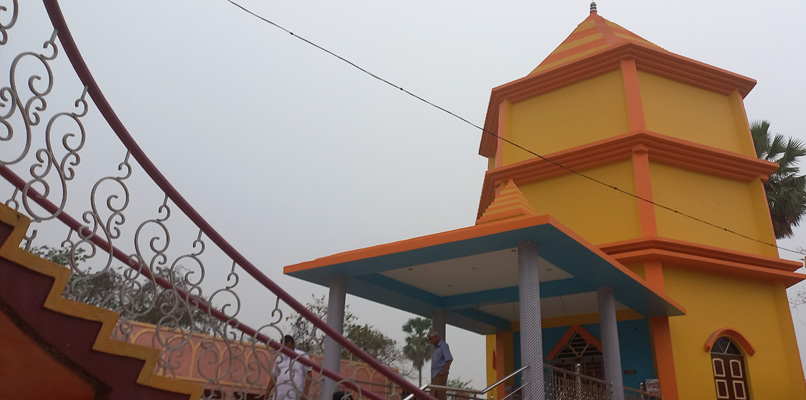 Attractions around Chandni Jaltungi
The sleepy village of Labandhar surrounded by a dense forest of Sal, Mahua and Segun trees is home to hundreds of wall paintings by artists from all over India. It all began with the efforts of a group of artists whose organised tireless effort transformed this quaint village into a colourful canvas portraying the different forms of tribal art from all over India. The first paintings were done on the walls of the the village's Annapurna Temple and slowly and painstakingly the whole village was covered with paintings depicting social issues, religious themes, nature conservation and even football.
Bhalki is a small village within a forest patch adjacent to Illambazar Forest area. A small park with boating facilities have been arranged by the Forest Department here. Visitors can enjoy a quiet afternoon amidst the chirping of birds here and visit the nearby brick tower also known as Machan which was once a part of the GTS (Great Trigonometrical Survey) of India.
The local history of Kalikapur Rajbari estimates its age to be somewhere around 350 years but researcher Jaggeshwar Chowdhury mentions in his book, Burdwan: Itihas O Sanskriti – Volume 3, that the year of establishment was 1819. However, all agree that Sadgope Zamindar Paramananda Roy initially established this Zamindari at nearby Maukhira Village but later moved to Kalikapur due to the intriguing problem of annual monsoon floods in Maukhira. After settling down in Kalikapur, Paramananda constructed 07 mansions for his 07 sons alongwith a Durgadalan and a Nat Mandir. Such mansions are referred to in the local dialect as "Saat Mahala Bari" (mansion with seven parts). All these 07 mansions were connected to each other through a long corridor.