Aritar, a pristine hamlet nestled in the Eastern border of Sikkim under the Rongli Sub-Division, is a relatively new tourist destination, boasting a picturesque scenic landscape and a beautiful "boot- shaped" lake called Lampokhri. The place, unique in its own way is covered with lush green forest, mountains, stepped farmlands and waterfalls. Aritar top offers an amazing view of Mt Kanchenjunga and some great nature trails, monasteries, view points, bird watching opportunities and village tour options.
Lodging and dining facilities in Aritar
Our homestay in Aritar enjoys a fascinating view of Mt. Kanchenjungha and is just a few minute's walk from the Lampokhari Lake. The homestay is facilitated with all basic features like hot water arrangements, attached western bathrooms, open terrace and sit-out areas, transport facilities and guides for local trek are also provided. Presently, we have 12 double-bedded rooms with attached bathrooms in our building. All our rooms share a common verandah with views of the mountains. Food is essentially homemade and farm fresh and served with lot of care in our Dining Hall.
For more photos of Aritar CLICK HERE
Things to do in Arithar
You can organize picnics at the popular picnic spot called Love Dara. The place is also ideal for the avid bird watchers. You can also enjoy boating in the Lampokhari Lake, trekking to nearby hilltops, enjoying village walks and nature walking.
How to reach Aritar
Although the nearest airport to Aritar is Pakyong but regular flights operate from Bagdogra only. You can hire car and drive for 4-5 hours to reach Aritar from Bagdogra. The closest railway station is at New Jalpaiguri, which is well facilitated by trains from all parts of the country. You can also hire vehicles from Siliguri and reach Aritar in 5 hours. Many tourists also hire vehicles and make tour to Aritar from Gangtok in roughly 3 hours. If you are coming from Kalimpong, then the route would be Kalimpong – Pedong – Reshikhola – Arithar. If you are coming from Sikkim, then the shortest route would be Rangpo – Rorathang – Rhenock – Arithar.
Best time to visit Aritar
You can visit Aritar any time of the year. The rains shroud Aritar with greenery and clouds whereas in winters, you can get a great panoramic view of Mt. Kanchenjungha.
Places to see in Aritar
Aritar is famous for its Lampokhari Lake. This vast natural lake shaped in the form of human foot is flanked by emerald green forest. The lake is ideal to enjoy paddle boating. There is also a cafeteria beside the lake. A well-maintained jungle path with view points and gazebos skirts through the jungle and climbs up to the Aritar Top, also called Mankhim from where you can catch a panoramic view of Mt. Kanchenjungha.
You can also visit the nearby Aritar Monastery, which houses some remarkable painted murals, rare manuscripts and Buddhist artifacts. The Dak Bungalow popularly called Ari-Bangla is an age-old British bungalow, built under the supervision of James Claude White in 1896. Of late, the bungalow has been transformed into a guesthouse for tourists.
This temple of Mangkhim, belonging to the Rai cult of Hindu origin is located at an altitude of 6500 feet at Maity Village overlooking the Aritar. The viewpoint near the temple offers a panoramic view of the mighty Eastern Himalayas, Aritar town, rolling hills and the Silk Route. You can also visit the Ever Green Nursery and Ram Gauri Sangrhalaya, which is a nursery and museum, displaying some stunning collection of drift wood, botanical and some exotic varieties of flowers.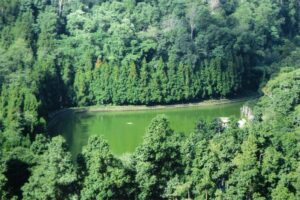 Attractions around Aritar
You can visit nearby Reshikhola, Icchey Gaon, Sillery Gaon, Doban and Pedong in West Bengal from Aritar. Some other nearby attractions are villages that used to fall on the Old Silk Route like Kupup Lake, Menmecho lake, Nathang, Padamchen, Zuluk and Lungthung. Aritar is often considered by tourists as one of the main Starting Points for Silk Route tour in Sikkim. If you are an adventure lover then a trek to Mulkarkha Lake can be very rewarding skirting your way thorough untouched villages like Jhusing, Lingsey and Tagathang. You need to travel few kilometers uphill to locate this lake in an isolated forest area. Savor the beauty of the surrounding area of the lake adorned with jungle of exotic orchids and colossal mountains. On a clear day, you can see the reflection of Mt. Kanchenjungha on the placid waters of the Mulkarkha Lake.