Sangsey is a mountain village located at an altitude of nearly 5000 feet above sea level with a panoramic view of Mt. Kanchenjungha. Located just 12 kms. from Kalimpong and still untouched by mass tourism, the Sangsey village has one of the most scenic nature resorts in North Bengal. Our homestay at Sangsey offers a quiet vacation soaked with traditional Gurkha hospitality, a breathtaking view of the Himalayas, the constant chirping of hilly birds and the golden gleam of sunrise over Mt. Kanchenjungha.
Lodging and dining facilities in Sangsey
Our home stay in Sangsey offers great views of Mt. Kanchenjungha. Surrounded by farms and forests, this home stay is the perfect getaway from your hectic schedule. Our homestay has 04 rooms and can accommodate upto 16 guests in total. All rooms are equipped with modern facilities like comfy beds and attached western bathrooms with hot water geysers. You can enjoy the views of the snowy peaks of Mt Kanchenjungha and the rising sun from our homestay. Our Sangsey home stay serves sumptuous food in its dining hall and can also arrange barbecue for the guests.
Things to do in Sangsay
Sangsey offers ample opportunities for those interested in bird watching, trekking or just taking a village walk enjoying a glimpse of traditional village life. The fascinating birdlife is a star attraction of Sangsey, with several rare species including the Doves, Swifts, Cuckoos, Buzzards, Eagles, Owls, Hoopoes, Woodpeckers, Berbets, Minivets, Babblers, Drongos, Sunbirds and many more. Adventure sports like Paragliding can also be enjoyed from nearby Delo Hill. If you are not one of those "Outdoor Souls," then don't forget to bring your favourite novel and enjoy it sitting at our balcony basking in the morning sun overlooking the white mountains and green valleys. Our balcony and gazebo offer spellbinding views of Mt. Kanchenjungha which you can enjoy from dawn to dusk.
How to reach Sangsey
Our homestay is 70 kilometers from Darjeeling and 78 kilometers from both Siliguri and Gangtok. It is only 12 kilometers from Kalimpong. The nearest rail head is New Jalpaiguri and the nearest airport is Bagdogra (IXB). The homestay arranges pick-up in reserved cars from Darjeeling, NJP, Bagdogra, Siliguri, Kalimpong, Gangtok and all other tourist destinations. However, if you want to travel in shared cars and buses then you can take any car or bus heading towards Kalimpong and from Kalimpong you would get pic-up services to Sangsey.
Best time to visit Sangsey
You can visit Sangsey anytime of the year. The winters are known for their sparkling weather and spectacular sunrise over Mt. Kanchenjungha while the monsoons are favourite with tourists who love to see lush forests and farms covered in mists and clouds.
Places to see in Sangsey
This little village is home to several farming communities who grow Cardamom, Rice, Vegetables and other cereals in their terraced fields throughout the year. Although, Sangsey offers one of the best views of Mt. Kanchenjungha yet it has still not found its place in the popular tourist map, so if you are planning to visit a serene destination untouched by mass tourism where you can spend a few days in peace and tranquility, then Sangsey should be your choice. Around 02 kms from Sangsey Village is the famous Hanuman Temple with a towering statue of Hanuman ji overlooking the mountains. Also, the Sakyamuni View Point and Ganesh Temple is located nearby.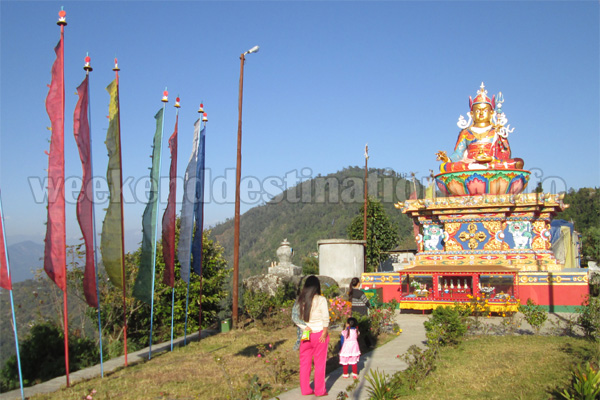 Attractions around Sangsey
Our little village is tucked within a quiet corner with some of the best sightseeing spots of the Eastern Himalayas in its vicinity. To the West of Sangsey lies Kalimpong town and Delo Park and to the East of Sangsey lies Pedong, Icchey Gaon, Ramdhura, Lava, Kolakham and Rishyap. To the North, we have Mangerjung, Jalsa Bungalow and Rangpo and to the South we have Bidyang Valley, Charkhole, Loleygaon and Pabong. You can visit these destinations in day trips from Sangsey or you can include Sangsey in your itinerary while visiting some of these destinations.