Rainee Khola is a rivulet which runs through rocks and boulders snaking through dense forests. We built our nature resort in the middle of untouched nature on the banks of the Rainee Khola.
You would often find peacocks visiting your abode and a waterfall in the distance pouring thousands of gallons of water in the Raineekhola River. While staying here, you can go for local sightseeing trips or take part in adventure sports like Rock Climbing and Trekking. You can also enjoy Bird Watching and Angling with your friends during the day and do some barbecue under the starry sky.
Lodging and dining facilities in Rainee Khola
Our nature resort in Raineekhola is located on a river bed. We have two triple bed cottages, a dining hall and a kitchen serving lip smacking food. Our backyard is the forest and the lawn is bordered by the Raineekhola River. Both the cottages have attached western bathrooms with hot water arrangements, comfy beds, wardrobes and tea tables. There is also a TV in the dining hall where children can enjoy their cartoons. Food served is essentially Indian and served hot in the Dining Hall.
Rainee Khola Photo Gallery
Things to do in Rainee Khola
Angling in the waters of Raineekhola can be fun. If you are fond of trekking, then you can go for short treks along the craggy riverbeds through forests up to waterfalls. The crystal clear river is also a delight for water lovers. You can also enjoy rock climbing or savour a barbecue under the moon light. A bird watcher can submerge himself in the exotic species of birds in this location. Raineekhola is a heaven for birdwatchers, anglers, photographers and bookworms.
How to reach Rainee Khola
The adventure starts after the guests reach the bridge over Raineekhola. They can hike along the river crossing streams over rickety bamboo bridges and forests to reach our nature resort or they can take a ride of their lifetime in our Maruti Gypsy which takes them through the forests and streams. The nearest main rail head is New Jalpaiguri (NJP) and the nearest airport is Bagdogra (IXB).
Best time to visit Raineekhola
The winters bring migratory birds to Raineekhola but during the heavy monsoons of June, July and August, Raineekhola becomes inaccessible and stays closed to tourists.
Places to see in Rainee Khola
A few minutes hike from the Bailey bridge over the meandering Raineekhola leads you to our nature resort. Here, you would find a natural rock cave and a boulder strewn river bed amidst dense jungles frequented by deer and peacocks at our doorstep. In the distance, you could make out a waterfall high up on the hills.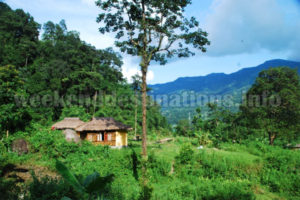 Attractions around Rainee Khola
The orange valley of Sittong, the emerald coloured lake – Namthing Pokhri, where you can still spot the endangered Himalayan Salamander and the jungles of Latpanchar are all near our nature stay. While staying here, you can visit the home of Maitreyee Devi in Mungpoo where Rabindranath Tagore used to stay and even take day trips to nearby Kurseong, Bagora, Ghaleythar and the viewpoint of Ahaldara.