Guarded by Mt. Kanchenjungha and located at an altitude of 7200 feet, Temi Tea Garden is the sole tea garden in Sikkim. It was established in 1969 by the Government of Sikkim.
This tea garden spans a total area of around 453 acres. It is known for producing some of the best quality teas across the globe. The garden also offers amazing visual splendor. The winding journey through the lush tea plantation and a night in the Temi Tea Garden guesthouse located within the tea garden is truly a lifetime experience.
But, this is not all! Temi Tea Garden unfolds its true beauty during the winter when the Cherry Blossoms bloom and the mountain and tea garden are covered in a mauve veil. Mt. Kanchenjungha with her friend overlooks this splendour. You can also enjoy adventure sports like Zipline and Paragliding at Temi as well as take a guided tea factory tour to see tea processing.
Lodging and dining facilities in Temi Guest House
Our guests are accommodated in the Temi Tea Garden Guesthouse which is located just at the center of Temi Tea Garden with fabulous views of Mt. Kanchenjungha from our guesthouse window.
Surrounded by tea gardens and Cherry Blossoms on on all sides and being a part of the Tea Factory, our guests can visit the Temi Tea Factory for a guided tour and witness the varoius stages of tea processing. There are 04 Double bedded rooms on Second and Third Floor of our guesthouse with all modern facilities like attached western bathrooms with hot water geysers, TV, wardrobes, comfy beds, couches, private parking, attached balconies with mountain and tea garden views.
The Temi Tea Garden guesthouse not only offers homely accommodation but arranges for sightseeing trips, treks and adventure sports. The food is served in exclusive dining area and is essentially home cooked Indian cuisine and the supplies are locally farmed organic vegetables and spices.
Things to do in Temi
The pristine manicured Temi tea garden welcomes tourists to savour the beauty of the surrounding picturesque landscape. If you are staying in Temi Tea Garden Guesthouse, then you can also visit the tea factory in the garden to view tea processing. You can also opt for adventure sprts like Zipline and Paragliding at Temi Tea Garden. Near the tea garden, there is a small outlet operated by the 'Tea Garden Employees Consumers' Co-operative society Ltd.', which sells some quality packaged tea for visitors. You can find brand names like Temi tea, Sikkim Solja, Mysteaque, Orthodox dust tea and Kanchanjunga Tea. Enjoy a nature walk along the scenic tea garden, exploring the pristine Himalayan hamlets, birds and butterflies. You can also visit nearby Ravangla to indulge in Maenam Hill trek or trek to Tendong Hill from Damthang.
How to reach Temi Tea Garden
You can avail the regular buses running to Temi or can hire taxis from Namchi, Pelling, Ravangla, Pelling or Gangtok. Rented cars are also available from Bagdogra or New Jalpaiguri to reach Temi. New Jalpaiguri Station (NJP) is around 113 kms and Bagdogra Airport (IXB) is around 121 kms from Temi Tea Garden.
Best time to visit Temi
Temi Tea Garden welcomes tourist all the year round. However, if you want to relish the amazing sight of the Cherry Blossom in full bloom, it is best to visit during November and December. The best time to view Mt. Kanchenjumgha and her allies is from October to February. The rainy season is the best time to see the lush green tea garden blooming with new leaves.
Places to see in Temi
The surrounding region of Temi tea garden is a haven of some exotic bird species like the Lesser Shortwings, Satyr Tragopan, Kaleej and numerous butterflies. Apart from the tea estate, the region is mainly dominated by large cardamom plants and cherry blossom trees.
The tea garden also offers some breathtaking view of the surrounding villages and the entire range of the Eastern Himalayas with Mt. Kanchenjungha towering in the middle. The Temi tea garden is known for manufacturing a popular tea brand, called 'Temi-Tea', famed for its rich aroma and taste.
Do not miss the picturesque view of tea plucking, which is an enduring experience. You can also visit the factory to gain some interesting knowledge on tea processing.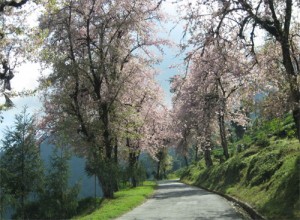 Attractions around Temi Tea Garden
Pelling, which is renowned for its charming natural beauty is an ideal location to make an enjoyable trip from Temi. Located in the district of West Sikkim, Pelling is nestled at an altitude of 7200 feet, offering some stunning views of the snow-clad peak of Mt. Kanchenjunga and other peaks of Eastern Himalayas. Pelling also has some notable ancient Buddhist monasteries in Sikkim, the most famous being the Sang Da Choeling Monastery and Pemyangtse Monastery.
Namchi, the capital of South Sikkim is another popular destination, located at an altitude of 1675 m above sea level. It is located at a distance of 78 km from Gangtok. In Bhutia, the word 'Namchi' means 'sky high' and this township is gradually gaining popularity as an amazing tourist destination.
The prime attraction of the place is the statue of Guru Padmasambhava measuring 135 feet, in Samdruptse monastery. You can also savour the majestic view of Mt. Kanchenjungha from this location. The Chaar Dhaam point at Solophok also attracts tourists and pilgrims.
Trips are also made to the serene hamlet of Ravangla, located at an altitude of 7000 ft. This place located in South Sikkim District has emerged as a natural tourist retreat offering splendid snow view. It is an ideal location for village tourism. Ravangla, overlooked by colossal snowy mountains, picturesque tea gardens, exotic flora and fauna, ancient monasteries and charming villages has all resources to become a tourist hotspot. The trek adventurers also prefer Ravangla as the trekking routes to Tendong Hill and Maenam Hill originate from this place.
Some other offbeat destinations where you can visit from Temi Tea Garden are Tarey Bhir, Chalamthang, Biksthang, Sribadam, Borong and Okhrey. A trip to Okhrey in March and April to explore the famous Rhododendron bloom in Varsey Rhododendron Sanctuary is a must in your to-do list.