Located at an altitude of 5500 feet overlooking the mighty Mt. Kanchenjungha and surrounded by tea gardens on all sides, Thurrup is a secret very few have ever discovered. Just 28 kms. from main town Kurseong, Thurrup has always escaped the glare of mass tourism. A small guesthouse with just 04 rooms to spare accommodates guests at Thurup. The fabulous hilltop location of the guesthouse, the lush green tea gardens, the hidden lakes amidst pine forests, the wild orchids and exotic birds and butterflies make Thurup nothing less than paradise.
Lodging and dining facilities in Thurrup Guesthouse
This newly built guesthouse at Thurrup located on a hilltop with great views of Mt. Kanchenjungha has 04 Double Bed rooms to offer its guests. Located within tea gardens and surrounded by pine forests and orange orchards and terraced farms, the Thurrup Guesthouse is equipped with modern facilities like comfy beds, attached western bathrooms and a fabulous terrace with panoramic views of Mt. Kanchenjungha. The guesthouse arranges for guided bird watching tours and serves sumptuous food in its dining hall.
Things to do in Thurup
Apart from local sightseeing trips to Latpanchar and Sittong, you can do butterfly tracking and bird watching. You can take a leisurely walk through tea gardens and villages hike through pine forests.
How to reach Thurrup
Thurup can be reached from Kurseong (28 kms.), Kalijhora (25 kms.) and Birik (16 kms.). Regular cars are available from NJP or Siliguri to Kalijhora.
Best time to visit Thurup
You can visit Thurrup anytime of the year. Winters are perfect for enjoying the majestic view of Mt. Kanchenjungha in the horizon and the monsoons are best for the lush green tea gardens.
Places to see in Thurrup
This is a small village perched on a hilltop with magnificent views of Mt. Kanchenjungha and the endless stretches of tea gardens. The orange orchards of Sittong Valley, terraced paddy fields and pine forests surround the village. You can also visit the nearby Riyang River Valley of Sittong crossing the age-old bamboo bridge.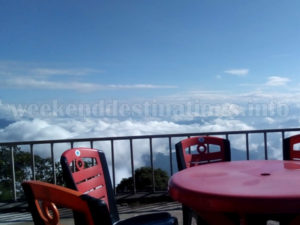 Attractions around Thurrup
While staying here, you can visit Latpanchar just 12 kms. away to see the nesting of the endangered Rufous Neck Hornbill. On the way to Latpanchar, you can also drop at Namthing Pokhari – the breeding spot of the extremely endangered Himalayan Salamander.
You can take a walk in the nearby orange orchards of Sittong and make a stopover while returning at the home of Maitreyee Devi in Mungpoo where Rabindranath Tagore used to stay. As Kurseong is near to Thurup, so day trips to Kurseong and its surrounding attractions like Eagle's Craig, Gidda Pahar, St. Mary's Grotto and Dow Hill are made.