Located at an altitude of 5200 feet overlooking the mighty Mt. Kanchenjungha and surrounded by tea gardens and pine forests on all sides, Tamdhara is a secret very few have ever discovered. Still untouched by mass tourism, the village of Tamdhara is just 33 kms from Darjeeling and 23 kms. from Kurseong. The fabulous location of our home stay with a panoramic view of Mt. Kanchenjungha, the surrounding tea gardens, the nearby hidden lakes amidst pine forests and exotic birds and butterflies make Tamdhara nothing less than paradise.
Lodging and dining facilities in Tamdhara homestay
Our home stay in Tamdhara offers great views of Mt. Kanchenjungha. Surrounded by tea gardens, this home stay is the perfect get away from your hectic schedule. Our homestay has 02 cottages and each cottage can accommodate upto 05 guests. All rooms are equipped with modern facilities like comfy beds and attached western bathrooms with hot water geysers. You can enjoy the views of the snowy peaks of Mt Kanchenjungha and the rising sun from our cottages. Our home stay serves sumptuous food in its dining hall and can also arrange barbecue for the guests.
Things to do in Tamdhara
You can take a walk in the tea gardens of Tam dhara and orange orchards of Sittong. A trip to Latpanchar Forest area to spot the nesting of the endangered Rufous Neck Hornbill. You can also hike through pine forests and local villages.
How to reach Tam Dhara
There are three routes to reach Tamdhara. The shortest route (56 kms) is through Siliguri – Sevoke – Kalijhora and Latpanchar. The second route (77 kms) is through Kurseong – Dilaram – Bagora and Ghaleytar. The Third route (79 kms) passes through Siliguri – Rambhi and Mongpoo. You can hire cars from NJP or Siliguri.
Best time to visit Tam Dhara
You can visit Tamdhara anytime of the year. Tea gardens and farms are lush during monsoons whereas winters are perfect for enjoying the splendid views of Mt. Kanchenjungha looming in the distance.
Places to see in Tamdhara
This little village is located within a tea garden on the outskirts of the more famous Orange Village of Sittong. You can also visit the local church. Previously, there used to be a 100-year old Bamboo Church here but now a new building has come up. There is a Bamboo Bridge, which you would love to see wobbling when someone crosses. But when you are in Sittong, there is one thing you cannot miss doing – "Enjoying Oranges." You can also visit the nearby Riyang River Valley of Sittong, Latpanchar Forest, Rock Garden in Ghaleythar and numerous other sightseeing spots.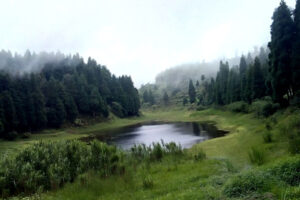 Attractions around Tam Dhara
While staying here, you can visit the home of Maitreyee Devi in Mungpoo where Rabindranath Tagore used to stay. Day trips to nearby Kurseong and its surrounding attractions like Gidda Pahar, Eagle's Craig, St. Mary's Grotto and Dow Hill can also be arranged. You can also visit nearby Namthing Pokhari – the breeding spot of the extremely endangered Himalayan Salamander, Rainee Khola riverside and the viewpoint of Ahaldara from Tamdhara.